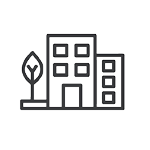 An efficient and modern dwelling portfolio
According to Toivo's management the company can maintain efficient real estate management compared to typical real estate industry players thanks to its business model and modern real estate portfolio. Typically, management costs1) are on average some EUR 4.5 per dwelling square meter for a conventional operator2), while Toivo's management costs3) were EUR 2.14) on average per square meter in 2020.
1)=Includes plot rents the share of which is EUR 0.09/m2/month.
2)=Source: Statistics Finland, Management costs of housing companies increased in 2019, June 2020.
3)=Does not include plot rents.
4)=Square area-weighted monthly maintenance cost per square meter in 2020.
5)=Dwellings under construction/in the contract phase.
6)=Dwellings under construction or the contract for the project has been signed, as well as the plots in the contracts.